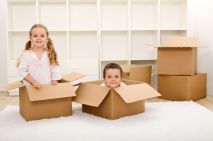 A Checklist for Moving into your New Office in the W2 Area
21 August 2014
When you are moving into your new office in the W2 area, it makes perfect sense to make yourself or print yourself off a checklist of everything that you need to do. Doing so will ensure that you remember everything that needs doing and don't forget something important, furthermore it offers you coverage and protection.

Here is a checklist for you to print off or use as you wish. Here are some things you should do before the move:

• Take stock of all of your belongings, know exactly what you are moving to the new office. Check each item off once it has been received and unloaded in the new office.
• Make sure have enough packaging supplies, such as boxes, tape etc. to box up all of your stuff.
• Research removals companies and once you have found one you like, and you have ascertained it is experienced in office moves, book it.
• Get a blue print or a floor plan of your new office and plan the new layout, think about where your teams are going to sit, where the furniture needs to go and where any shared equipment needs to go.
• Pack all of your things away and label the boxes to make it easier to unpack in the new office.
• Make sure that a van can get close enough to your old and new offices to make loading and unloading the van a bit easier.
• Tell people that you are moving office, you should inform:

o Customers: tell them why you are moving, when you are moving and where you are moving to.
o Suppliers and vendors: as with customers, keep them fully updated about your move.
o Companies like your insurance provider and your bank, as well as companies house, should be informed.
o Your utility providers: let them know the date you will be moving and where you are moving to. Set up having the energy turned off in the old property and on in the new property.
o Royal mail: set up re-direction services of your post until your customers etc. start using your new address.

• Order new stationary with your new address on.
While you're moving office try to make sure that you keep to the health and safety regulations as much as possible, this will be difficult to do, how do you keep the office free from trailing cables while the computers are being installed? You can abide by them entirely, just try to keep your office as safe as possible.
And here are some things you should do once you're in your new office:
• Make sure your air conditioning system is working properly and set it to a comfortable temperature.
• Check the security alarm, do you know how to work it? Is it fully functional?
• Make sure you set up a secure and lockable filing cabinet or cupboard to store your sensitive data.
• Make sure you have received all stationary showing your new address.
• Make sure all of the following are installed properly in the new office:

o Telephone and internet ports
o Computers
o Cabling
o Networking
o Servers
o Kitchen equipment, such as dishwashers, fridges/freezers, cookers or microwaves, kettles or coffee machines.

• Test everything is working once it has all been installed.
• Check the property to make sure nothing is broken or damaged that should be reported to the owner of the office block.