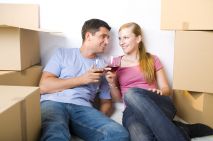 Get the Best Removal Service when Relocating to France
21 August 2014
You may think that moving to France isn't that big a deal, seeing as it's so close to England, that there shouldn't be too much trouble in getting things over there, but it can be an extremely arduous process, especially if you're attempting it yourself. You have shipped things before, I'm sure, but have you ever tried to send a whole living room's worth of furniture to a foreign country? It's slightly harder than you may have imagined, and it is a process that takes a few years to learn the ins and outs of, so we recommend using a removals service who are well versed in the trade, and will have the experience to let you know how things should work, as well as answer your questions as to how to go about everything.

Things like weight limits and the different types of freight that are available to you are parts of the move that are just not that obvious without a great deal of research, and you may be thinking that you would be willing to do the home work if it means that you can save a few quid on the removers. It is very likely however, that you will read up on the process and then spend your money moving things without knowing all of the potential outcomes. If it all goes smoothly, then you may well find that you are lucky and the move goes without a hitch, but this outcome is extremely unlikely. The most likely thing that will happen is that the timings will go wrong and leave you either having to pay for storage while you are moving, or you will have a night or two without beds, and you have to pay for a hotel. Either way, you will have to chase things up over the phone with the French end of the shipping depot, and this can be a problem if you do not speak the language, as I'm sure you can't imagine a French dock worker being particularly interested in speaking English to you! With this in mind, you will be stressed and attempting to communicate in French, as well as spending more money to get things sorted. Personally, I would prefer pay the money in the first place to safeguard against such an event!

The other option, if you want to save money on removals systems, is to not have to move anything! You will save as well as make money if you sell off all of your furniture from your home before the France removal, and you will therefore be able to have some fun with the proceeds to make your new place look exactly how you'd like it to, instead of feeling like you have to force your items in to the new place, even if they don't really fit or look right! Give it some thought, as it can mean that you only have to travel with a couple of suitcases full of clothes, and a rather heavier wallet! Then you can enjoy perusing the French markets and antiques shops for the best items to make your new life in France truly beautiful by way of surroundings!

Whichever way you go, you should not be organizing the shipping of your items to foreign countries, as the amount of communication and clever planning that it will take will likely put your head in a spin, even before you've had to shell out a load of cash to pay off your mistakes!