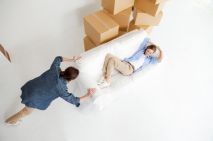 How to Decide Whether a Removal Company is Reputable
21 August 2014
There are so many removal companies out there, each claiming to offer the best services at the lowest price. With so many companies constantly being advertised on the internet, in phone directories and even in newspapers, it can be very difficult to choose one. After all, the only thing anyone wants is to be provided with a good quality service that does not cost an arm and a leg. However, recently, the arrival of 'cowboy professionals' has meant that not everyone can be trusted.

'Cowboy professionals' are people who lack the training, experience and sometimes even the facilities to deliver a service professionally, yet still advertise themselves as full professionals. These phoney professionals can be found in every trade, from construction to removals and they always tend to be offering their services at the lowest price. It is therefore crucial that you do not end up with a phoney remover who will not deal with your removal professionally at all.

So how exactly do you know which company you can and cannot trust? This article mentions a few things to look out for, which are good indicators of good, high quality, reputable companies, meaning that you can make the right decision about which one to choose.

Most reputable companies will have a proper ad in the newspaper, phone book or the internet. This website will have all the information you require about the company and its services.
Unprofessional removers tend to have their name and a phone number advertised on secondary website, which is often one of the main indicators of phoney removers.

A good company will allow you to read testimonials that have been left by previous clients. These should also be found on the website. A reputable company is a company not afraid to show off any good publicity that it has gotten, so always be on the look out for testimonials or awards that may have been won by the company (these will also be mentioned somewhere in the ad or on the website).

Most reputable companies have an office, so if all you have is a mobile number and no professional office number, you know that you may be through to someone who may not be 100% reliable.
Reputable companies who have nothing to fear will offer to insure your possessions whilst they are in the care of the company's staff. This means that any removers that do not offer insurance may not be the most reputable and you should probably stay away.

Have you ever heard of the famous saying 'If something sounds too good to be true it probably is too good to be true'? Well, this saying did not develop out of thin air. If a remover is offering you the full package for less than half of the price that another firm is offering, then it probably is a fluke or a rip off.
Asking your nearest and dearest for referrals is another option that allows you to choose a reputable removal firm. If a friend or family member has used a removal service that they were pleased with, then you know that they must have done a good job.

Picking a removal company is a tricky task, especially when there are so many to choose from. However, by doing some research, you will be able to avoid any phoney 'cowboy professionals' and actually hire a service provided by a reputable removal company, therefore ensuring that you get all that you end up paying for.