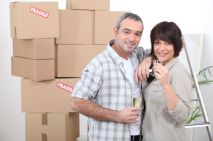 How to Pack for International Furniture Removals
21 August 2014
Everything in your home is important to you and has many uses. You will have furniture, clothes, electronics, ornaments, utensils and more that are all essential to your day-to-day living, so if you are about to undergo a removal, then you must be committed to doing everything necessary to safely transport them to your new address.

This is much easier said than done, because packing and furniture removals can be a long and difficult process. If you are moving overseas then you can expect a lot more work and it will be much tougher. If you want your overseas transition to go well, then all you need is some advice and tips, which you can discover as you read on.

When it comes to packing, preparation and planning are essential. If you jump right in, you will find problems occurring one after the other, and so in order to eke things going well, should start be making a schedule. Having something clearly designate when and for how long you shoulder perform task will ensure everything is done. You won't have to worry about rushing through tasks because each will be given enough time and no part of the process will be forgotten. You can also use this to assign tasks to different people in your household so everyone comes together to finish the job.

Sorting your goods is a vital step that must be done in advance. Go through items and begin to put items that are similar together. This will mean putting goods that are comparable is size and weight because it means that can be placed into boxes much neater later, which makes the process simpler and will help keep your items safe. You can also use this as an opportunity to work out what material you will need, how many vehicles will be necessary and more.

You must buy an abundance of packing metrical, including things such as bubble wrap, tissue paper and cloth. You can also use things such as clothes and sheets, as well as newspaper. Wrap these carefully around each object and you can even use them as padding inside a container. Use plastic and cardboard boxes as containers, and place each object inside gently. Heavier items should be at the bottom with lighter goods on top. Make things stack tidily so that items don't shake about. Fragile goods should be kept separate from others. Seal the box tightly when done and label it so you know what's inside.

With all this done you will then have to start moving your furniture and boxes. This will require a lot of strength and coordination, so patience is essential. Take your time when handling heavy objects and get multiple people to carry larger goods. For furniture, see if it is possible to dismantle it, because it will be much easier to manage in smaller pieces. People should have a proper grip when carrying and object and each person should work in unison. They should all know where the object is going and what obstacles, such as stairs and doors, will be in the way. If someone begins to lose their grip or strength, the item should be carefully placed down and everyone should take a break. If you have trouble getting over an obstacle, don't force it and instead take your time and work out a solution.

With all this done, you can hire a removal company or currier services and your goods can be conveyed overseas and be there ready for when you arrive at your new home.