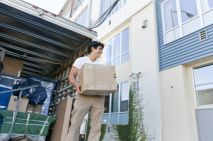 Moving House to France Best Left to the Experts
21 August 2014
If you have moved home before, then you will know that it requires a lot of planning, preparation and organisation, not to mention the fact that it can be very physically demanding if you have attempted a move without help, and very stressful as a result. Moving to France will be even more of a challenge, so if you have relocated before without much help, you will need to reconsider who to approach your move to France, as attempting to do so without professionals is inadvisable.

<strong>Why you Need Experts</strong>
Moving to France will require all your household items to be shipped internationally, and due to the volume of items you are likely to have taking these yourself will be very impractical. Secondly, moving abroad will require extra planning and organisation, such as making sure you know how to register as a citizen in France, making sure your passport and driving licence are up to date, and other important documents are in place. Then there will be the property documentation to deal with. These are just the more fundamental parts of a a move to France will likely entail, and there will be many more things to do such as registering your business, if you are self-employed, or making sure you have employment lined up and so on. If moving with your family then finding appropriate schooling and education will be a further thing to do that can take up time. The main problem is that you have to do all your research from the UK, so this can make these tasks very time consuming.

<strong>How Experts can help</strong>
Professional international movers can be a great help for your relocation to France. As mentioned you will have a lot on your plate to deal with, and having to then make sure you are on top of the packing can lead to a very stressful experience. Professional movers can help take some of this stress off. Many companies offer professional packing for your international move for example, so can make sure all your items are packed securely and professionally while you focus on other areas of your relocation to France.

Again, trying to move all your household goods yourself to your home in France will likely not be feasible, so you will probably need to make use of professional movers. As mentioned, you should use this to your advantage but making use of any additional services a company might offer in order to help make your move a lot easier in the long term. Having a team on hand to not only pack all your goods, but be transport them to storage if needed, as well as shipping them to your new home in France can make the difference between an absolute nightmare and a fairly pleasant relocation.

<strong>Finding Good International Movers</strong>
A good starting point is to ask around friends or family, or anyone else you might know that has moved abroad recently, ideally to France, but any location will be useful as they will have probably have hired an international moving company. This way, you can immediately narrow down your search by finding a few companies that people you trust can vouch for, which can go a long way. Once you have found a handful of companies that you think will be suitable, you should call around them individually and get some estimates. This way, you can find out the best prices, and it gives you a good idea of what to expect to pay if you have not used international movers before.