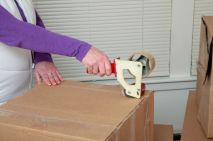 Removals Companies How to Avoid Being Scammed
21 August 2014
While most removal companies are professional and will treat you fairly, there are a number that will try and squeeze as much money out of you as possible when moving home or office. If you're prepared, and follow some basic tips, you shouldn't get caught out, and will know who to trust when moving your belongings.

Compare prices from a few companies

This can be very helpful, especially if you are not sure what the standard price is for a removals service. Find a couple of companies in your area, and call around to get some quotes from them. Make sure you include all the relevant details of what you are moving, whether you have any special requirements for certain items, how long you need the company for, and so on. This way, you can avoid the company charging you for something you forgot to tell them about during the move. Being as specific as possible will also enable any potential companies to give you a more accurate quote. Generally, the quote you are given should be what you expect to pay, so by calling around a few, you can get a good idea of how much you should be paying.

Watch out for extremely low quotes

During your comparison, you might find a company gives you an unusually low quote. While this may seem like a good thing at first, this is a common trick that less reputable companies will use in order to secure your business. Once your removal job is underway, they will start adding additional fees in any way they can, thus causing the cost to skyrocket. Any good quality removals company will not do this to their customers.

Common scams

In addition to the one mentioned above, be on the lookout for these other scams that are fairly common among disreputable removal companies. A slight variation on the one mentioned above, is to give you a low quote, but wait until the job is complete before presenting you with a list of itemised billing for various things you didn't realise you would be charged for. Again, this can generally be avoided by dealing with a good company. You should be able to see any additional billing costs at request up front before you book a company to do any moving for you.

Make sure you find out how a removal company plans to charge you. Some may charge by weight, others by space used. Another common scam is to say they will charge by weight, but once the job is complete will in fact charge you for space used, which generally speaking, means you will have to pay well over your estimate. Once again, reputable companies will be clear about how they are charging you.

Customer testimonials and regulators

It's very quick and easy to find customer testimonials online, so if you have any misgivings, look up the company on online forums and discussion boards to see what kind of feedback they are getting. Using the companies own website as a source of testimonials is usually a good idea but you have no way of knowing if they are real and genuine. If you still have concerns, check with the regulatory bodies to see if the company is registered with them. In the UK, the main one to check is the British Association of Removers. If a company is upstanding, they will be registered with the association, but you can also report any misconduct to this regulatory body.